Birthday Report: The Year Ahead $25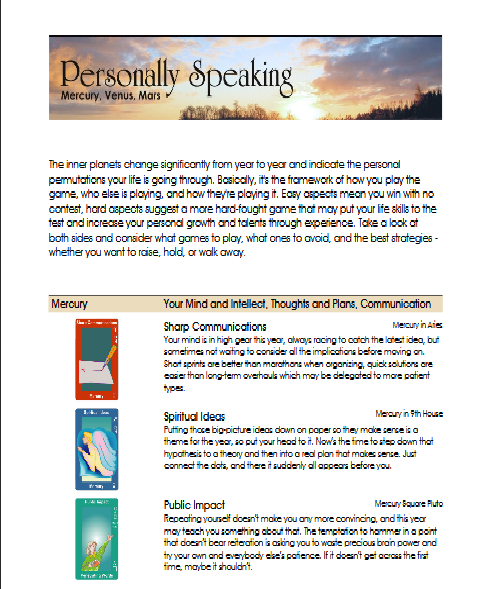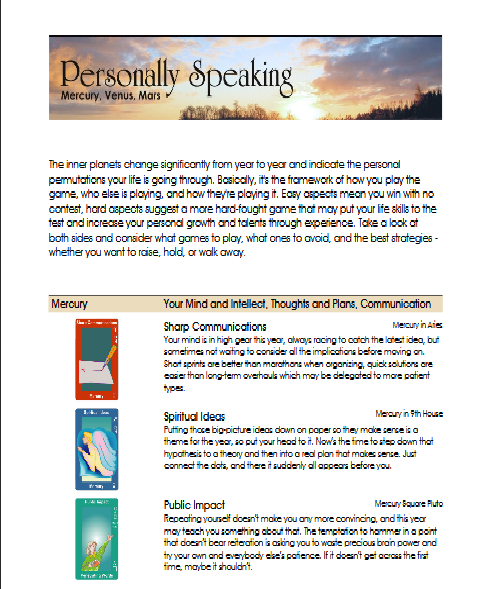 Birthday Report: The Year Ahead $25
A Birthday Chart or Solar Return describes your year ahead and is your personal connection with the heavens, the celestial bodies, the stars and the universe. All major cosmic events are interactive; they represent an activity taking place both within us and within our planetary consciousness and these cosmic patterns can help us shed light upon our everyday life.
WHAT YOU WILL RECEIVE
1. A 35 page computer generated astrology report that describes your year ahead; each page illustrated in full color. *A great way to introduce yourself to astrology and makes a great gift too!
2. Email support and follow-up.
3. Links to websites that will help you understand and interpret your report.
4. Delivery of your report within 48 hours.
YOUR BIRTHDAY REPORT WILL EXPLORE
1. Every year the Sun returns to the exact place where it was at the moment you were born. Your Birthday Chart also known as a Solar Return is cast for this exact moment and also for where you are living right now. The Natal Birth Chart (which can be ordered here) may be the most important description of you, but your Solar Return is considered to be the most important chart for describing your current year.
2. The Right Place: a color coded list of all of the major cities in North America, as well as in the world, that are auspicious for your Solar Return year ahead.
3. A detailed day-by-day calendar of the coming year. Each day is illustrated with an illustration to help you tune in, or get "a feel for," the Astro-event listed on a particular day.day.
"A lot of things reiterated what I essentially already knew about myself, but it's helpful to have it pointed out because it's easy to get distracted with every day concerns and lose track of your more important purposes in life." ~ Diane, Etsy Artist
"Why I didn't have the natal chart done earlier, I will never know, maybe that was just the right moment. It was incredibly helpful in understanding how I cope and how I see the world. It's a lot easier to accept less flattering qualities when you see them in the report, the same goes for positive qualities that were validated. Thank you for such a great experience" ~ Amy, Pasadena

"I think the biggest message I got from this is also my life lesson here, which is trust. It's time for me to take a deep breath and jump into all the opportunities that await. It worked out in the past and it will work out this time too. I will continue to revisit this as a reminder to my Self to get back to business and trust it's the right thing." ~ Mollie, Elementary School Teacher, Social Worker and mom, California

I just shared my reading with my husband. what an eye opener for him, and for the first time ever he is interested in a reading, Thanks this is profound for us. ~ Roxi Hermsen, Oracle Deck Creator, B.C.

"Very accurate! Would 100% recommend!" ~ Hannah

"This was super insightful and useful!" ~ Merry

"This was a wonderful reading. Kathy is insightful, professional, and attentive. Her reading was detailed and she was incredibly responsive to questions. I highly recommend Kathy's services." ~ Molly Trammell

"I read my report from start to finish a couple of weeks ago and was blown away by the vibrancy, detail, and the feeling as if it truly was compiled just for me. So comprehensive, deep, and personal. My intention is to sit with it again at length, to give it the close attention and presence it merits and warrants, and to examine myself in-depth in its light." ~ Rosemary C., Oregon
"Kathy Crabbe did a fantastic job. I ordered two charts, one for each daughter. In addition to the actual chart, Kathy provided two full reports, with a customized cover page with her artwork...you get to pick your cover! So excited to give these to my Cancer and Capricorn daughters for Christmas." ~ Janet Finnie, 2018

"It was beautiful, lengthy, detailed, and so personal. Kathy signed me up for her (very enlightening) news letter after my purchase, which I always look forward to. She communicated with me throughout the purchase and was completely finished within two days of payment! It was an illuminating report, and made for a personal, unique gift. I recommend this, as well as Kathy herself, to anyone! ~ Kasey Croston, 2018

"I really love my Astrology reading. And so excited for The New Oracle to come out in 2019! I am loving the prompts to be creative in many of Kathy's offerings! I love how a lot of them are related to Astrology Moon signs, Goddess, magic, healing and being open to my creative soul expression! Lots to explore and have lots of fun with!" ~ Kelly Walsh
Read over 400 more five star testimonials on Etsy here.
MY BACKGROUND:
I have spent many years of astrological study, both privately and publicly with Steven Forrest, Jeffrey Wolf Green, Patty Davidson, and Laura DesJardins. I was also trained as a psychic-medium by the renowned English trance medium, Adam Higgs and received certification in crystal healing from Katrina Raphaell's Crystal Academy in Hawaii. In 2017 I was initiated into the Third Road Celtic Faerie Shamanism Tradition by Francesca de Grandis, author of Be A Goddess.
***To delve even more deeply into the meaning of Mama Moon in your life consider taking my eClass: Awaken Your Divine Feminine Soul
Click here for more Astrology Reports.